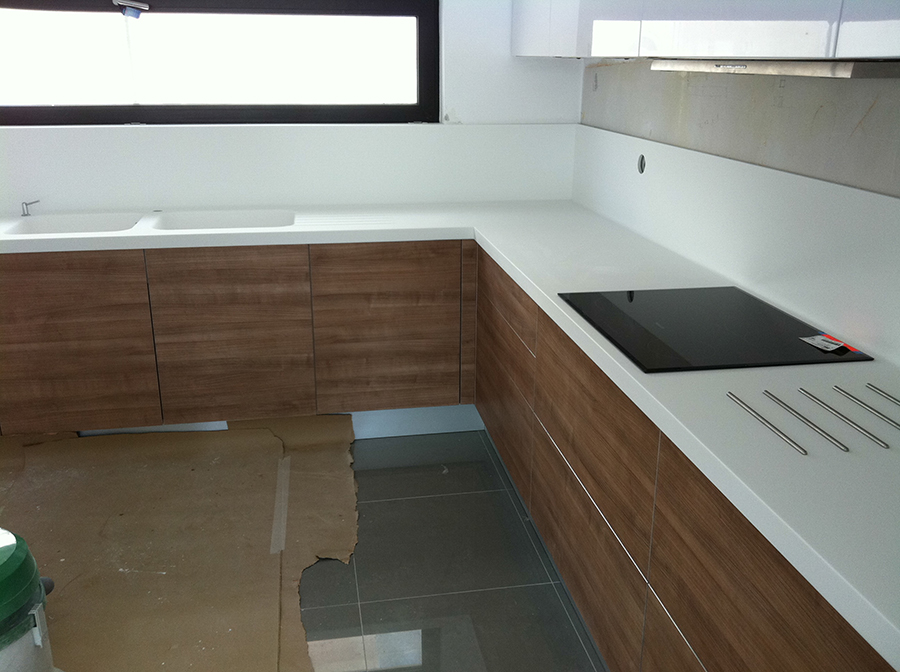 Corian counters
Kitchens Sgouros - Carpenter - Kitchen Furniture - Doors - Carpentry - Rhodes

Giannis Sgouros is one of the most renowned carpenters and furniture makers on the island of Rhodes, with over 30 years of experience in the full range of carpentry. More than a classic "carpenter", Giannis Sgouros is known both for the incomparable quality kitchens that adorn countless houses in Rhodes, and at prices better than any corresponding "ready-made" imported department store furniture.
In addition to the "classic" constructions, we offer modern solutions and constructions from Corian, Avonite & Hi-Macs for your counters.
What is Corian?

DuPont Cor Corian® is a solid, non-porous, homogeneous material consisting of 1/3 acrylic resin (PMMA) and 2/3 natural metals.
The main ingredient is Alumina Trihydrate (ATH) derived from bauxite, an ore from which aluminum is produced.
Since its introduction in 1967, Corian® has proven to be an extremely durable material.
It does not stratify and withstands most impacts, scratches and cuts that occur in areas of heavy use.
It is certified for mechanical, thermal, electrical and all other properties of its surface.

Corian® is truly the material of the future. The combination of its advantages makes it the first choice for desktops, creating innovative furniture, and even in masonry investments. Its wide range of colors can be combined in a single object without joints as well as its impressive glossy surface combined with imaginative thermoformed curves in the space, compose an innovative image of technical ability and decorative richness.


The main advantages:
• Without joints and joints give a homogeneous result on the entire surface.
• Touch friendly with a velvety feel.
• Extremely durable.
• Light in relation to marble - granite.
• Non-combustible - They are thermoformed.
• Non-porous 100% antibacterial.
• Officially certified materials for high hygiene requirements, most suitable for contact with food and for public places schools - kindergartens, hospitals, airports, hotels, restaurants.
• Any damage or abrasions are repaired on site.
• After many years of use, freshening by our specialized workshop, makes the construction new.
• Easy maintenance. No special cleaners needed.
• TEN YEAR WARRANTY.
• Unlimited architectural applications.
• Variety of colors.
• Photopermeable (wide range).